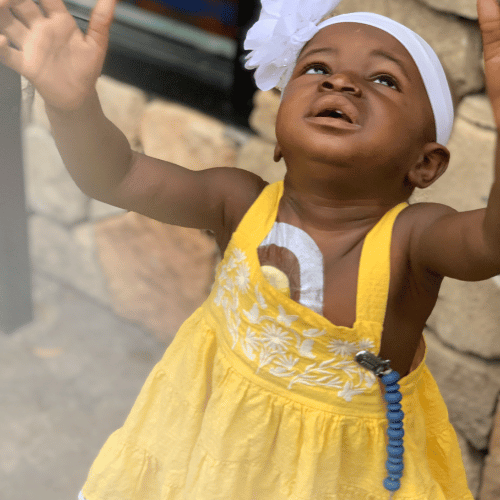 All-Star Aleina
Diagnosis: Rhabdomyosarcoma Alveolar
"She was about 10 months old when I noticed a knot in her nose," explained Shondra, Aleina's mom." I thought that maybe she had hit her nose. A few weeks later, we went to lunch and she was crying a lot which was totally unlike her. We decided to go to the ER. Since there was no indication other than her crying uncontrollably, I still believe that that was the holy spirit saying get her to the ER."
There Aleina was referred to the ENT where they did lab work and an X-ray. Both came back fine, but, to be safe, he referred her again. This doctor biopsied it, again just to be safe.
"On October 6, the doctor called to say that it was Rhabdomyosarcoma Alveolar," said Shondra. "I was alone; my husband works nights. All you hear is 'cancer.' I called my momma and bawled. I cried for a long time. Aleina was with me, and the night seemed to go on forever. I told Abdul when he came in the door. I couldn't stop crying. We were just lost."
Aleina quickly saw the oncologist at East Tennessee Children's Hospital.
"I was on sick leave anyway because of Aleina's surgery. I told my supervisor, and she and my co-workers all rallied behind us. We were very grateful."
"All you want to know is whether your kid is going to live or die. It was so overwhelming. The oncologist explained that some of the cancerous cells remained. There is also a gene which Aleina has, PAX3-FOX01, that increases the risk. I was in such denial. I had not long been promoted and while he was talking, I was trying to finish off work. All I could think was, 'Just tell me, is my child going to be ok?' At the same time, he was talking about all the sub types, genes etc. It was just too much. Radiation would be needed since some cancer cells remained. She also had to have proton therapy. Then they had to fit her face with a mask to target radiation to that specific part. All this was happening within the first year of Covid, when cases were more rampant. We were clueless about what this journey would look like."
Aleina started treatment in November. When she was in the hospital, Shondra stayed with her. She had been in her job for five years, so she had more support and flexibility. Abdul worked nights and would take some of the daytime appointments while Shondra worked. Aleina had chemo and radiation simultaneously, but she was a trooper throughout. For her parents, it was hard watching her face become raw and her nostril close in.
"It was like sticking your kid in the sun to get sunburnt over and over. It was painful because we couldn't do anything about it. It also never gets easier seeing your kid get sedated. Then there was the whole thing of living between scans. Because I work in mental health, there's a switch that gets flipped on and off. I am a supervisor. I keep it together during the day but then as soon as work is over, my mind turns to Aleina. It's constant; I can never relax."
"Life was pretty disrupted," said Shondra. "I would just take off days for her treatment, but I got to keep my job. I tried hard to be an invaluable employee, so I worked longer days to compensate for days I had out."
"When Aleina was originally diagnosed, someone told us about Pinky Swear Foundation. At that time, we were trying to sell our house. The Orange Envelope gave us a little bit of something to offset the bills. Abdul had been laid off and didn't find employment for a few months; because of Covid, production slowed down and they weren't hiring. He also lost overtime; it was a double whammy. We then sold our home and the mortgage on our new home was double what it had been. In February 2022, Abdul was laid off again. There we were, him without a job and with a kid in treatment, so I was off work all the time using up sick leave or not getting paid. Pinky Swear paid the mortgage. For a long time, we didn't even know. We went to pay, and they said we were all caught up. Man, I can't even... it was wonderful. We felt like we were suffocating. It helped us to get back on track."
Aleina completed her treatment at end of February 2022 and is now in remission and getting ready to celebrate her one-year cancer free anniversary. She is resilient and doing well.