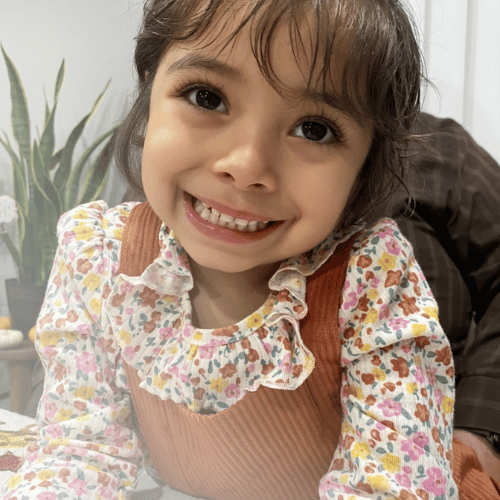 All-Star Isabel
Diagnosis: Acute Lymphoblastic Leukemia
Raul and Gloria have two little girls: Emily, aged four, and her sister, aged three. Life was pretty good, except that Raul was laid off from his job in early 2020 due to the pandemic. Gloria had already stopped working to be a full-time mom.
"We had a lot of savings, though," she explained. "Once the girls were born, I spent as little money as possible, so we weren't too worried, especially since our family is so supportive."
Isabel was an active toddler with a good appetite, so it was odd when she started sleeping a lot and not eating much. She began limping and complaining that her side hurt, but when they took her to the ER, they said it could be gas from constipation. The issues continued, however, and Gloria also noticed some bruises. The doctor took one look at Isabel and told them to go to the ER to get lab work immediately.
Gloria was unable to go into the hospital because she had not yet had her Covid vaccination.
"She is a mommy's girl, so she was upset, and my husband was texting me saying, 'She wants you.' I drove back to the hospital parking lot and was about to leave when Raul called and told me that I was getting a special pass. All I could think was it must be something bad for them to let me go in, but I was trying to stay calm. When I arrived, Raul was in tears and unable to speak. The doctor came in and said that they were getting the ambulance ready. They had noticed that Isabel's counts were low, that she had bruises and was limping; everything was pointing to Leukemia. Of course, Raul had to go with her, and I had to go home and pack bags for them. I couldn't sleep, I was thinking, 'Why us? What did I do?'"
The next morning, the oncologist came in and told them that it was acute lymphoblastic leukemia (ALL) (B-Cell). They were in the hospital for about three weeks.
"Gas was so expensive, and then the car started giving me brake problems. Since it was a newer car, we decided to give it back and just have the one car. This happened two months after she was diagnosed."
"Our social worker helped us so much and we got food stamps plus we already had Medicare. We were also going through our savings despite only buying necessities. I told my husband that we shouldn't have Christmas this year. However, we ended up receiving a tree from the Teddy Bear Foundation plus $100 for each girl for toys. Christmas ended up being pretty good. We were so thankful."
Isabel is still getting chemo once per month and lumbar punctures every three months, so the family still drives regularly to the hospital. Then there are the times when she gets a fever, which means going to the hospital. It's easy for her to get sick. She has a cough and a runny nose more often, and recently she had RSV and then Covid. Isabel will continue to receive chemotherapy until October 2023.
"It's been very hard for Emily; she misses her sister and us going back and forth to the hospital. Not being able to have visitors hurts both girls. They were always together and are only 10 months apart. One time our family all went to the hospital lobby and Isabel was able to see them. That felt good."
"The worst moment was when Isabel had a bad reaction to the chemo. She started coughing and her lips went purple. She was having a hard time breathing; it was very scary. Thankfully the Benadryl worked, and she improved quickly."
"Pinky Swear sent us an Orange Envelope, it felt good that there are Foundations out there willing to help families and to get support from people who don't even know us. We felt very happy and thankful to get the support to get our mortgage paid and not worry about that for at least that month. We appreciate the hard work Pinky swear puts to help families and letting them know they are not alone! Thank you so much for all the love and support, it brings happiness to the families when we need it the most."
Isabel is doing well. She loves Minnie Mouse, animals and Peppa Pig.
"She wants me to get a horse, a cow and a goat and put them in the backyard," laughed Gloria.