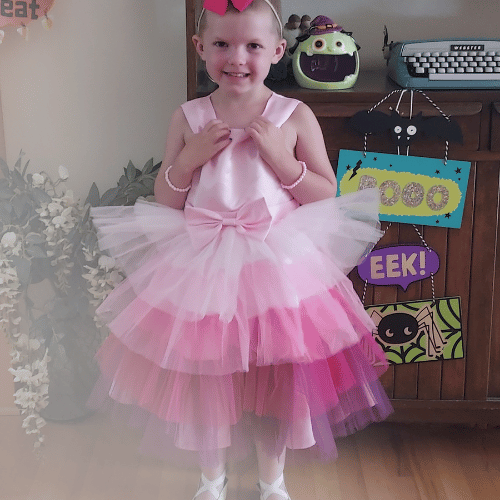 All-Star Ophelia
Diagnosis: B-Cell Acute Lymphoblastic Leukemia
Ophelia is five years old and is the youngest of four children and the only girl. Her mom, Bobbi, and her dad, Curtis, both work full time and life is very busy, but they make it work. One day early in 2022, things changed drastically.
Ophelia started breaking out in hives. Her mom wasn't too worried and put it down to an allergic reaction to the laundry detergent. Bobbi changed the washing powder, and the hives came and went for a couple of months, but seemed to be less frequent. Then Ophelia started developing sickness after sickness and had a chest cold that wouldn't go away.
"I just thought she is the youngest, she is going to pick up things; she's a bit run down. But when her voice sounded like she had strep, we made an appointment at the doctor. The strep test came back negative. However, the doctor noticed faint bruising on Ophelia's chest and on her face under her eyes. He was concerned and sent us to the hospital for blood work."
Bobbi, Curtis, and Ophelia were at home after leaving the hospital when they got the call to say that they needed to come back for further testing, but it was most likely that Ophelia had leukemia.
"I had kind of suspected something more was going on. I work in the hospital doing cardiac ultrasounds, and at the bottom of the rabbit hole is always cancer," said Bobbi. "I knew it was possible, but you never think the worst was going to happen. In that second everything changed. There was a blizzard that day. I had to drive her to the hospital; it took me twice as long as usual to drive to the hospital in the snow while Curtis took the boys to a friend's house."
When Bobbi and Ophelia got to the hospital, they wanted them to check in as normal.
"I told them that she had leukemia, and the receptionist was rather startled and upset; they weren't used to that. The doctors did a lot of talking around her diagnosis, which was hard to hear, and I ended up intervening to say that we understood and were on the same page."
Ophelia was then admitted and was in the hospital for 11 days straight. Bobbi stayed with her the whole time while Curtis went back and forth to take care of the boys.
Bobbi took a leave of absence from work for the first several weeks and is still working intermittently around appointments. Curtis was already working at home, so the family was thankful for that.
"It's hard when you have other kids, Ophelia and her treatment became the center of our lives. It was also tough helping the boys to understand, cancer is a scary big word. All the kids needed a lot of support."
Ophelia was able to start school with accommodations. She was very advanced and outgoing but now she is shy and very cautious of new people and situations. She tires easily especially in the days following her chemo meds and takes a nap each day at school.
When asked about the most difficult moments, Bobbi said, "the beginning was by far the worst. Ophelia was so sick from medications at the beginning, it was hard to explain. There were also numerous ER visits for fevers when they had to access her port and swab her for Covid. When we go to clinic she's a rockstar though – very brave."
The family is grateful for a lot.
"We have had so much support. One organization brought Christmas presents for all the kids and our gym did a fundraiser. Ophelia amazes them all with her resiliency. She does what she must do and then she just goes on with her life; she's incredible."
The family received an Orange Envelope, and then in February 2022, Pinky Swear paid their mortgage.
"It was a huge weight off us at the time. I work a lot and had always worked full time. I needed to do that to support the family," explained Bobbi. "Pinky Swear Foundation provided us with financial support during our greatest time of need. When our daughter was diagnosed, we had so many worries and fears. We were so thankful to not have to worry as much about finances during a time that I was unable to work."
Update from Ophelia's family - Oct 2023:
"Things are good right now," said Bobbi. "Everything has been stable."
There were a few hiccups this summer. Ophelia went to an oncology camp for Children's Cancer Connection at a time when they were trying to suppress her blood counts and she spiked a fever. She had to have a blood transfusion before she went home. This required Bobbi to take a little bit of time off work, but Ophelia recovered well.
As for her current treatment routine, Ophelia continues to get a monthly antibiotic infusion and a chemo infusion every three months on top of taking daily chemo. She is trying to transition to an oral antibiotic rather than an infusion, but it has been tough because of the side effects she gets from the oral pill.
Ophelia is living her life as close to normal as possible though. She is in school full-time, and just finished soccer. Dance will start soon. Her parents considered having Ophelia repeat Kindergarten because she had missed so much but ultimately decided to move her through to First Grade. They worried that making her repeat a grade would feel like extra punishment.
As they look forward to March 23, 2024, when Ophelia gets to ring the bell to indicate being done with treatment, the family is super busy. Both parents are back working full time and all four kids are very active.
The support that the family received was a huge relief. "Everyone talked to us saying how upbeat we were and looking back it was because of organizations like yours. It was bad, but it didn't break us because Pinky Swear and others helped. It makes a huge difference in how you ride out your journey," explained Bobbi.
The family also loved the Uber gift card so they could treat themselves occasionally. "The Uber gift card was fantastic because of how busy we are. We use ours for Uber Eats, we are not close to many restaurants, so we were excited to be able to order in. Ophelia loves doing that."
When asked what her hopes and dreams are for Ophelia, Bobbi said "I know that mostly her first memories will be about cancer given her age, but I hope that she remembers the positive parts which includes the people who have helped. And that she takes that forward in her life. That would be what I would want for her."